Just some facts about RTD as well. RTD is the only district in the United States to use a block # usually the route # would be where the block # is and the sign above the driver would say where the bus is going at RTD we use the sign above the driver to say what route is what. A hint if you ever ride an RTD bus out of a major station please read the signs and ask others information about which run is which and which run goes where and what gate you can catch that bus. In this section I will teach you a little bit about Tag Axels as well as just whatever information I think might be useful in understanding. Note: Not all buses have a tag axel.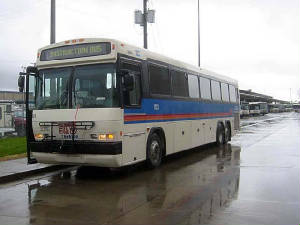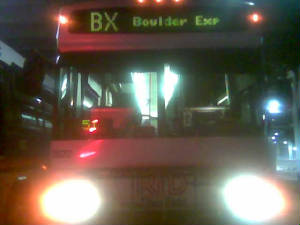 After years of searching I finally found the 2800 Series Buses that RTD received in recent years, these are the buses that are replacing the 1800's, as the 1900's these buses are used on Intercity and Sky Ride routes throughout the Denver Metro Area, and also have a tag axle just like the 1900's.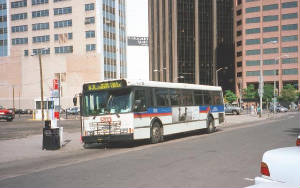 This is RTD's 2000 Series Orion buses , on the electronic destination sign above the front window it displays the route # and Destination this .Unlike the old Electronic Destination Signs these ones list out the destinations on the front and do the regular scrolling on the side.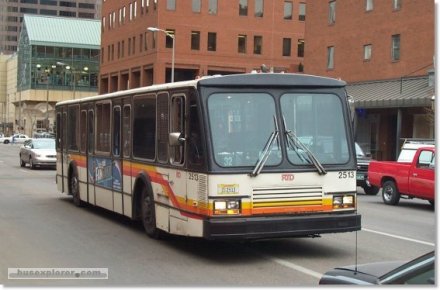 This bus is one of our old 16th Street Mall Shuttles. These buses are now retired and no longer exist in RTD today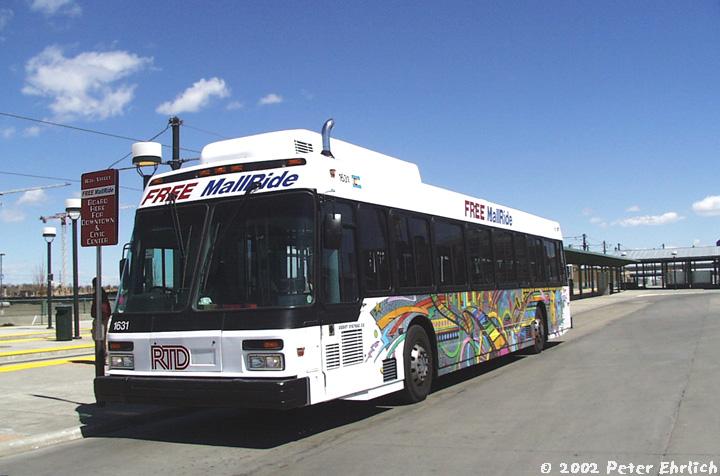 These are the New 16th Street Mall shuttles I was telling you about. Took me forever to find the things. Anywho these are the 1600 Series Transteq buses. CNG operated (Compressed Natural Gas). Nice buses smooth ride very relaxing. Don't let these buses throw you with the rear wheels this is the only one that the back wheels look like the front but are not Tag Axels. They are actually the drive wheels but the unique thing about these is that the rear wheels are not hooked up with a axel they are two seperate wheels that are moved by a drive motor, which is powered by a bank of batteries on the roof, which are charged with regenrative braking (heh how appropriate for how many stops these things make during the day).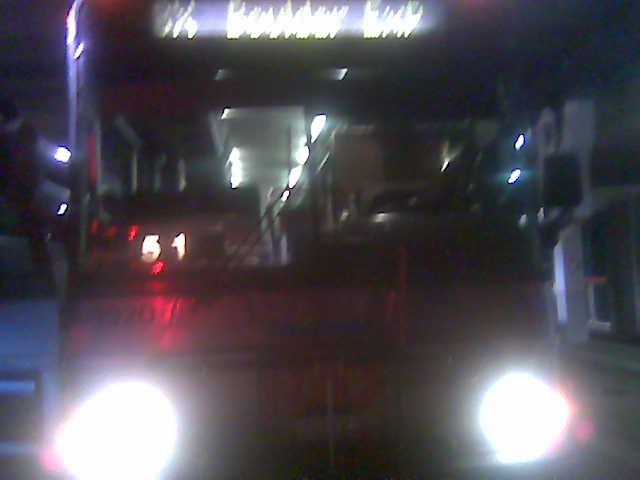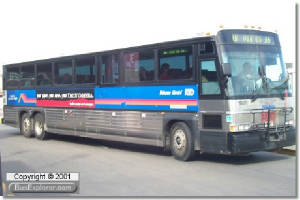 Now this is RTD's 1900 Series MCI Buses. These buses are my favorite they are 45 feet long and fun to drive I've been told. One thing on these buses that actually pulled my interest is the very last set of wheels on the rear of the bus are Tag Axel meaning they turn with the front wheels for better steering ability. When it snows you have to disengage the Tag Axel which is done by two switches in the Right Side Engine Compartment Access Door.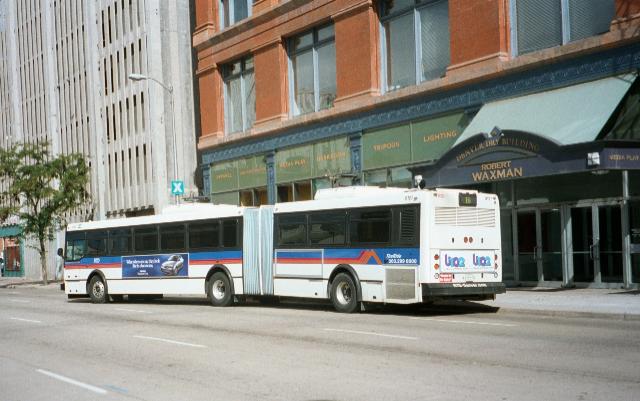 This bus is one of RTD's NABI buses. These buses are 60 feet in length, 102 inches in width, and 119 Inches in Height. These buses are used quite often through out the Regional Transportation District.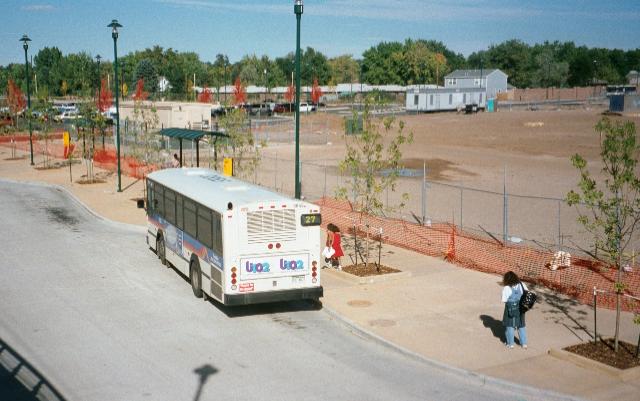 This is our 3800 Series Gillig Phantom buses. These buses go on the not so long routes like the 128 and 27 this one is on the 27 and is parked at Englewood LRT Station. These are also commonly seen on the routes with little rider ship during off-peak hours (not rush hour).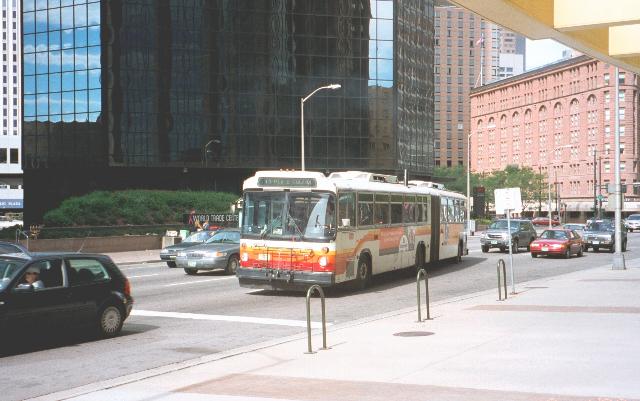 These are RTD's old 9000 series M.A.N. buses now retired and replaced by the NABI buses like the one a few pictures above. They have been retired for a year now and can't be found anywere in Colorado. On this picture you can't see it but the trailer wheels are Tag Axel they turn with the front to help these 60 foot buses get around tight curbs like the one at Kensing and 15th in Denver. The new NABI buses do not have tag axels cause the engine is sitting on the rear wheels. The 9000 Series Bus Engine was usually located in the mid point in the front part of the bus.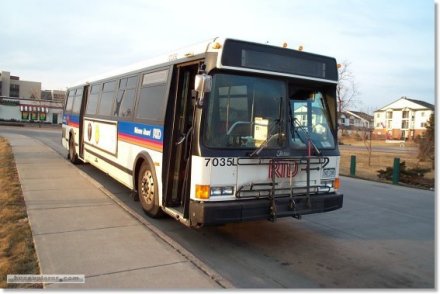 This is RTD's 7000 Series Flxible Buses, excellent buses I love em, they just tend to feel like they are going to tip over when you turn, that and in High Wind they like to rock left to right or vice versa depending on Wind.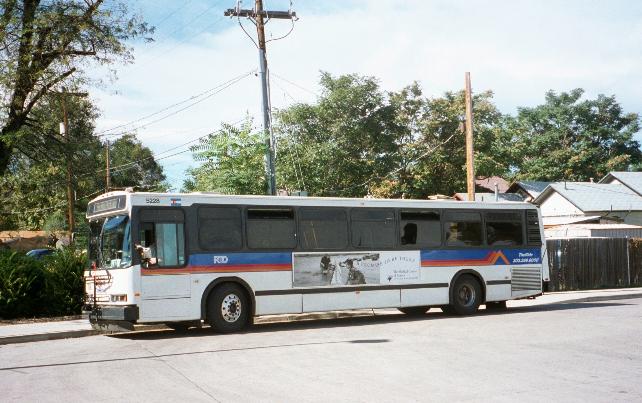 These were RTD's 5000 Series Neoplan Buses. They are now retired and are found no where in Denver now. These buses were nice buses the engine always had problems going up hills but 99% of the time they made it up without a problem.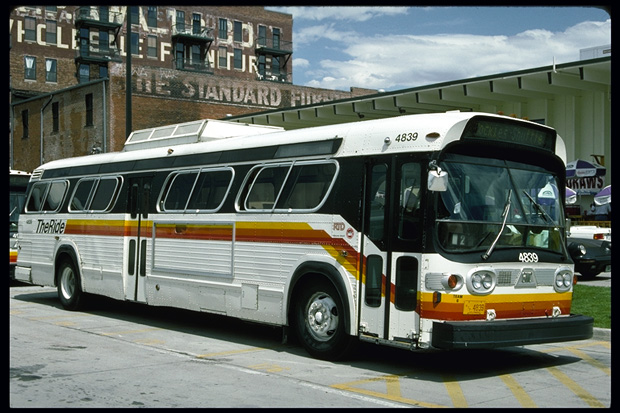 These are the old old old RTD's 4800 Series GMC buses. These buses were in service for 7 years and now are retired. These buses were 40 Feet in length, Seating was 43 passengers. This picture was taken at the Colorado Rockies Coors Field. These buses were made withour air conditioning the only system you had to cool off was the evaporative cooler which on most buses didn't work over half the time which means you were in for a ride but a very hot one in the summer.
These were RTD's 9900 Series buses. These Double Deckers were nice but not the best I have been told they have been gone for little over two years now and used to be used on the Route N (Nederland/Boulder Lake Eldora Ski Resort) and the Route T (Boulder/Greenwood Plaza).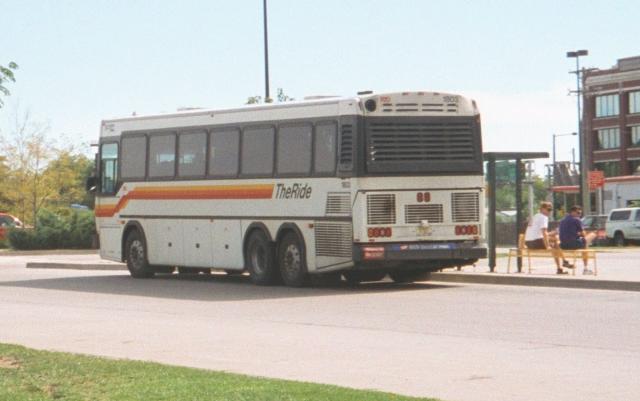 These are RTD's 1800 Series buses. These buses are now retired. They have been replaced by the new 45 foot 2800 Series Neoplan buses these look just like our 1500 series buses but are not even close to being alike. All three the 1500, the 1800, and the 2800 series Neoplan buses have rear tag axels which just like with the 1900 and 1700 Series Buses the tag axel MUST be disengaged in the snow or at least in deep snow. This picture you might say "Oh its just another bus and I have no clue what this person is talking about" well you may or you may not have a clue of what I am talking about. But the Tag Axel buses are easy to Identify like on this picture above the very last set of wheels looks like the front set.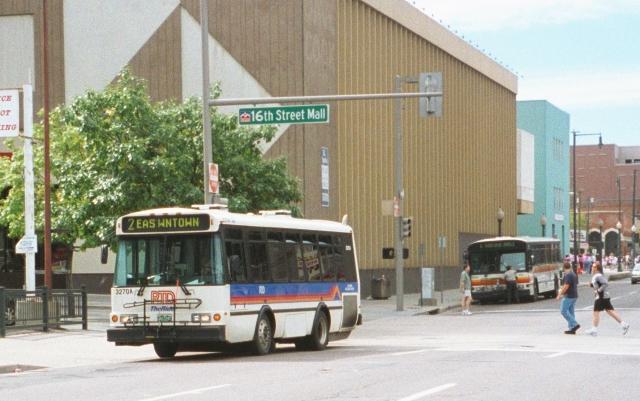 These are our 3200 Series Eldorado Buses. These buses at 27 feet in length are the smallest buses in all of RTD. Though not any better then their sister buses the 1000 Series their axel base is weird these buses are not used along mountains for that reason because they can tip over if hit just right by wind they are with RTD's Private carriers FIRST TRANSIT & LAIDLAW there are none of these in the actual RTD.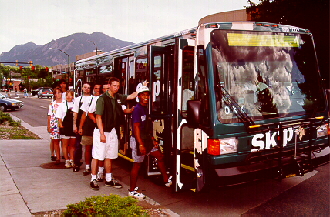 These are RTD's 1000 Series Collins buses. these used to be used on the SKIP as you can tell but are now used on the STAMPEDE Route and the CC Route. They are nice buses to ride in, but they aren't recommended for high mountain driving because if the wind hits them just right they'll tip right over like a tinker toy in an angry babies hand.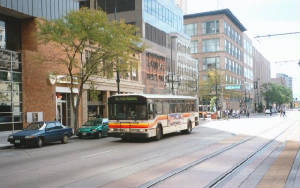 These are my second most favorite buses. These buses are RTD's 8000 Series Gillig Buses. Their sister bus is the 3000 Series Gillig Phantom. But better than their sister bus the 8000's have a/c.
The 8000 Series buses are only at one RTD division and the two private carriers. Referring back to Scrolling signs on buses. These buses have a scrolling sign on the front and and side like one will say "44 APPLEWOOD" then it will change and read "44 via DOWNTOWN" it does this in a continues loop until either you put a reading up that does not need to scroll like "GARAGE" or the sign just break down on you in mid service (which trust me this has happened before). The best way to know if your sign is working as the driver is check it when you do your Pre-Trip inspection, your stopped behind another vehicle and look at the reflection in the window or listen for the sound of something like Marbles.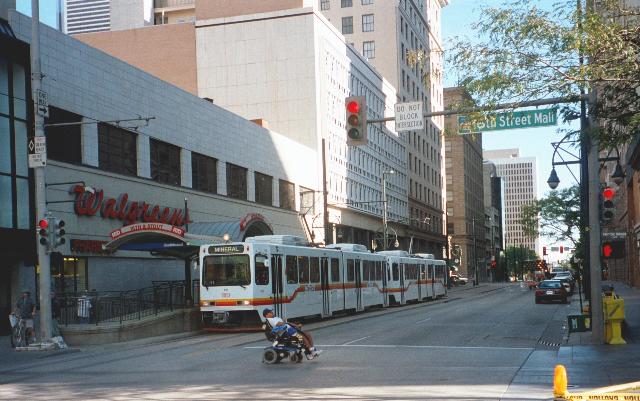 Finally the last item of this tour this is our LRV (Light Rail Vehicle) This LRT train is heading for Littleton Mineral Station. This photo was taken at the 16th and stout stop. This Light Rail has only gone to Littleton for 8 months and is still getting extended to Boulder and DIA. Me along with the RTD ask you to please be careful around lightrail these LRV's they are dangerous to people and vehicles because they are almost silent, and can't stop really fast.
ATU
This is RTD's Transit Union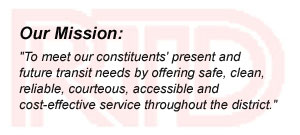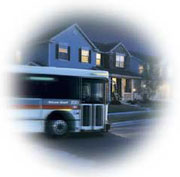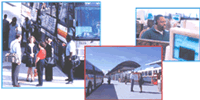 I hope you enjoyed this little page of Information and Pictures.